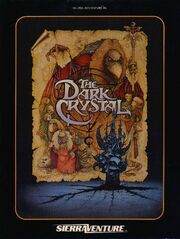 The Dark Crystal is a graphic adventure computer game based on Jim Henson's fantasy film, The Dark Crystal. The game was designed by Roberta Williams and published under the SierraVenture line in 1983[1] as Hi-Res Adventure #6: The Dark Crystal. It was the first Hi-Res Adventure released under the SierraVenture line, the previous titles being released under earlier names and later re-released under SierraVenture.
Development took a little over a month.[2] A simplified version written by Al Lowe, titled Gelfling Adventure, was released in 1984 and was intended for a younger audience.
The Dark Crystal is set in Thra, a world with three suns. Every thousand years the three suns come together in an event known as "The Great Conjunction".[1] The player controls Jen, a gelfling. Two souls are destined to battle to reveal the secrets of their past. One warrior's fate rests in the hands of a tyrannical villain who is hellbent on destruction.
The game features no music, a single beep is used to alert that no action other than the return key can be taken and a double beep if another command is used at that time.
Community content is available under
CC-BY-SA
unless otherwise noted.